Welcome to the plant deck at the UC Botanical Garden. We are a commercial nursery located within the botanical garden; 100% of our proceeds go towards the garden's operating expenses. When you buy a plant from us, you are directly supporting the UC Botanical Garden.
Visit the plant deck and see what we have to offer. Whether you're landscaping your yard, looking for succulent dish garden gifts, or searching for that rare greenhouse addition, you're sure to find it on the plant deck.
---


---
This lovely, small Magnolia (to 10' tall) was known as Michelia crassipes. It is now a variety of Magnolia figo, the banana shrub. It has large, dark green leaves and large, open, creamy white flowers to 3" across. The blooms have a delicate, citrus scent. It prefers sun to part shade, and a rich and well-drained soil. It has average water requirements and is hardy in the Bay Area. One gallon pots of this beauty are $18.00.
READ MORE HERE
Members' Sale and Silent Auction
April 26: 5 - 7:30 p.m.
Public Sale
April 27: 10:30 a.m.-2 p.m.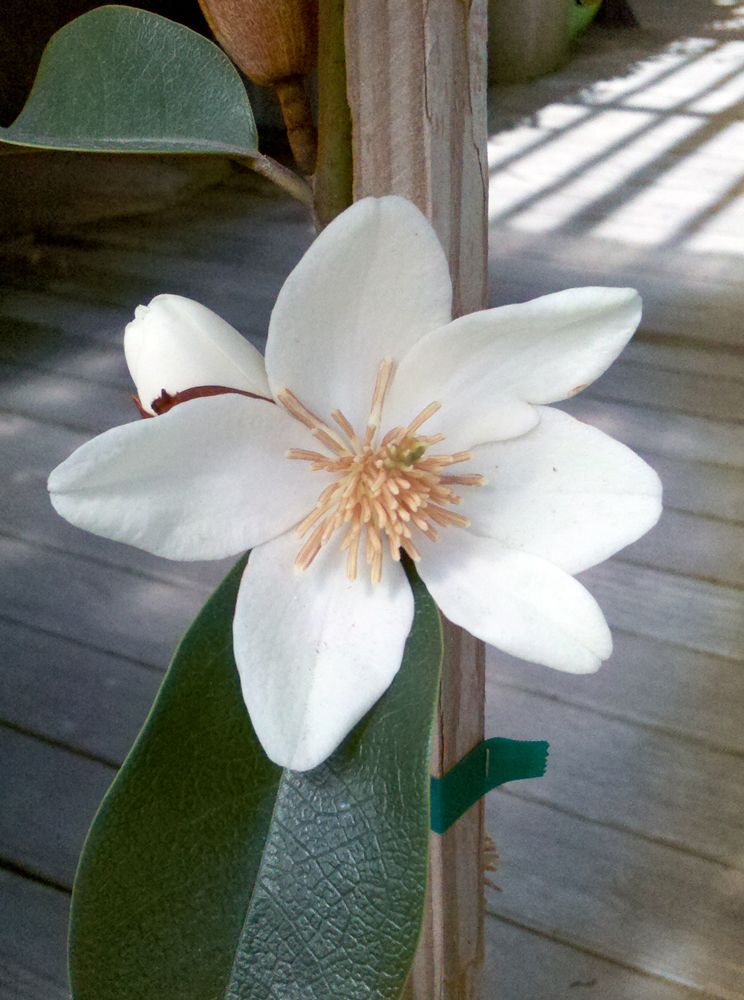 Magnolia figo var. crassipes (Michelia crassipes)
---
Do you like plants and botanically themed books and gifts? Do you enjoy working with the public? Do you want to give back to your community? Come and volunteer in the Garden Shop! UC Botanical Garden Shop volunteers sell gifts, plants, books, greet visitors and provide information about the Garden and plants.The Garden Shop generates much-needed revenue for UCBG.
Requirements: Work a minimum of two three-hour shifts per month and commit to one year of volunteering. Find substitutes if unable to make shift. Willingness to provide excellent and friendly customer service. Transact sales using the cash register and charge machine according to Garden Shop Manual. Greet visitors to the Garden Shop, and as requested, provide information about the Garden and local community. Regularly familiarize yourself with the Shop's merchandise - gifts, plants, and books. Training and supervision provided. Criminal background check required for this volunteer position.
The Garden Shop is open daily 10:30 AM - 4:30 PM; volunteer shifts are available 10:30 AM - 1:30 PM or 1:30 PM - 4:30 PM weekdays and weekends, every other week. Full training and staff support is provided.
More than 200 volunteers support the Garden through educational and fund raising activities, generating an average of 2,000 hours of service each month. Volunteering in our Garden Shop is of great value to the Garden accomplishing its mission of plant conservation, education, and research.
Please note that public transportation to the Garden is not available on the weekends.
Contact the Volunteer Coordinator at garden@berkeley.edu for more information.
---
Thursday & Saturday Propagation Area Sales
NOTE: Our California Native, Landscape Cactus & Succulents, and Asian Trees & Shrubs nurseries are open every Thursday from 10:30 a.m. to 1:30 p.m., weather permitting.

For more information call 510-643-4495 or e-mail bryan_gim@berkeley.edu
Lapageria rosea, Chilean bellflower or copihue, is the national flower of Chile. The unusual special selections shown on the left are an exclusive offering of The UC Botanical Garden. For more information click here.